TEN REASONS YOU SHOULD GO BOUDOIR
A boudoir photo shoot can be very overwhelming, stripping to your lingerie in a studio filled with strangers is a daunting task. No matter how hard you try, it takes some guts to strip and be comfortable in front of the camera alone or with your partner.
It is best to look at the outcome of a boudoir photo session, it outweighs the cons of stripping and the uncomfortable experience, as a lady or couple having this on your bucket list, you will be thrilled with the outcome, trust me.
Professional boudoir photographers get asked a lot why boudoir is the way to go. They keep giving interesting answers and views on reasons why their clients should book a boudoir session. This article serves as a reference to why you and your partner should thrill yourselves going boudoir.
1. Celebrate your feminine side
Let's face it, it's hard being a woman. It isn't easy for men as well, but since boudoir was modelled for a female, she should enjoy it by celebrating her feminine side.
2. Get you groove back, bring sexy back
It has become very trivial cutting your hair or changing your wardrobe just to look sexy. Why don't you just walk to a lingerie store, get some sexy pieces and book a boudoir session; this is the best way to feel sexy for years to come.
3. Explore your body
Boudoir photography aids you in finding out how beautiful your body is. You will see there is more to you than your beautiful smile or eyes. Do not be afraid to find out what will be discovered during the shoot.
4. Get pampered
Want to pamper yourself? There is no better way to do so than going boudoir. During most sessions you get new lingerie, your hair, makeup and nails done. You will feel like a sexy version of Cinderella.
5. Build your confidence
You know you are beautiful, and boudoir makes you realize that. This is a strong confidence builder. Grow your confidence and rule your world.
6. Gift your man something sexy
Traditional gifts for your lover doesn't cut it anymore. Go with the trend, get a boudoir photographs done and framed or get them added to an album for your man. He will be pleasantly surprised and treasure it for a long time to come.
7. Be intimate with the camera
Couples boudoir can be very thrilling. You and your partner get intimate and playful in front of the camera. Boudoir photography improves relationships.
8. Reignite your love life
It is normal for a couple's love life to get cold. Reigniting it can be a herculean task. Boudoir improves the bond felt by couples, thereby improving their love life.
9. It's fun
If you are looking for a new means to have fun spontaneously as a couple or a single lady. Go boudoir, you will feel free and expressive in a fun way.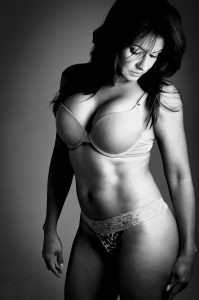 10. Boost your self-esteem
Boosting your self-esteem is so easy if you decide to go boudoir. You discover positive things about you, giving you more reason to love yourself, raising your self-esteem.
Boudoir is fun, trendy and a new way to express yourself artistically. This is a means to show love to yourself and loved ones in the most unexpected way.