Decades before Marilyn Monroe became the goddess of boudoir, women and most recently, men, have been in the business of accentuating their sexiness, using boudoir photography as a medium to prove to themselves and those they cared to share their art with, how beautiful and empowered they feel.
The boudoir photography trend has become the rave of the moment, more people are using this form of art to express their sensuality and beauty without any fear of being judged. People are sexy, sensual and can be vixens if they choose to and this can be achieved via boudoir photography.
Boudoir Inspiration is about all aspects of boudoir photography, giving inspiration, advice and favorite trends in the boudoir community to those interested in venturing into the world of boudoir, photographers and muses alike.
This style of photography is also very popular among brides to be, pregnant women and women who have achieved a significant milestone in their life; losing weight, celebrating their birthdays or various anniversaries. Boudoir Inspiration is the one stop site availing women in this category, the right resources to make their dream come through for themselves and loved ones they would love to gift these elegant and sexy pictures to.
Subscribe & Get a Free Magazine Copy Worth $14.99
Subscribe to our mailing list and download our special issue 'Best of Black & White 2020' Boudoir Photography in pdf for free, which is worth $14.99.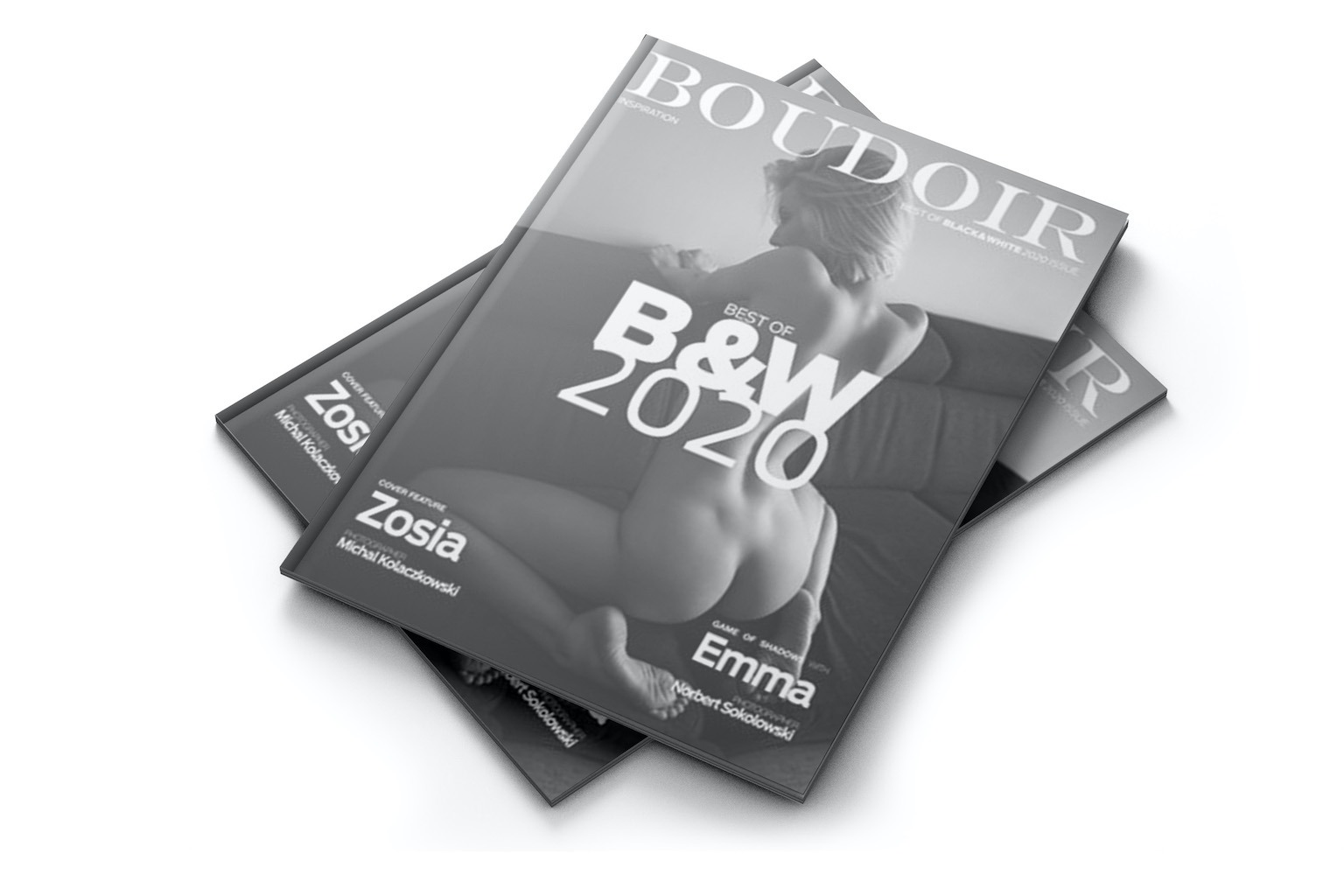 Bouodir Inspiration mainly endorses enjoying Boudoir Photography in print. Especially in this digital era, Boudoir Photography in printed paper is another immersive experience which appeals to the senses other than the visual.
Our printed magazine, social media accounts and the website are the platforms in which we publish and share photography of talented boudoir photographers and models to provide the opportunity to showcase their high-quality work to hundreds of thousands of our followers.
Our Boudoir Photography Blog is a section of our site made of different categories buttressing on boudoir photography, tips, videos, poses, couples sessions, which is the rave of the moment, themes and so on. It is a boudoir information portal; industry professionals will discuss everything boudoir.
Our directory that features highly acclaimed boudoir talents such as photographers, models, makeup artists, hair stylists, fashion designers, lingerie brands etc. from all over the world. Boudoir studios are not left out; we feature the best studios with world class equipment. This excellent directory eases the stress associated with finding the right photographer and studio that fits the needs of a prospective boudoir muse.
Get Published!
If you have a great boudoir project to share with the world, submit your work to Boudoir Inspiration which has the largest network of people in the Boudoir Photography community.
Submit your work