About Lechat:
Guilherme Lechat started shooting in the 80s. But it was only in 1990, at the college of arts, that he started photographing stage scenes, plays and dance for the college groups. There he has learned to master artificial light and to work in difficult lighting conditions. In this school, he has also started photographing artistic nudes with actresses and dancers looking for artistic works for their portfolios. After four years of study and after finishing school, he never had contact with scene photography again. But the artistic nude continues to be his favorite subject today and he still uses some techniques learned in the past, at the art school.
He then started teaching photography classes in 1994 and, in 1996, He got his first publication in a national magazine. He has never stopped teaching and publishing his work in magazines. He believes that publications are very important to keep in touch with other photographers, with the general public and with a commitment for constant development.
We have asked Lechat several questions about Boudoir Photography and here are his answers:
1) What does boudoir photography mean to you?
For me, boudoir and fine art nudes are the same. Both can be made with pieces of clothing and with good taste. So I don't even separate the styles. It's what I do, what I like to do and what I've always done.
2) Why did you choose to pursue a career as a boudoir / fine art photographer? What got you started in boudoir?
The artistic nude is a great tool to express what you think. The body's potentials have no limits. We can do things that are soft or strong, challenging or just beautiful.
3) What kind of creative process is there behind boudoir photography?
Finding the most suitable one for each personality is the most important issue. Some models are more spontaneous. Others, more timid. There are those who wish to pose in open landscapes. Others prefer the security and calm of the studio. This is the starting point. Know exactly what the client wants.
4) How do you communicate with a client or model you've just met to make them comfortable for boudoir / nude photography?
I talk a lot with the person who will pose for me. I do my best to know the personality, goals and expectations. I think this is much more efficient than driving models. Once I know exactly what is expected of me, there is no need to say anything.
5) How do you educate yourself to take better photos?
Internet research has become indispensable. All the best photographers show their work on websites and virtual galleries. Following the creative process and the development of the segment has become much easier and simpler. That's what I do.
6) How would you describe your photography style?
I define my work as fine art nudes. The goals, the treatment, the applications are all developed in an artistic way.
7) What type of cameras do you shoot with, boudoir and/vs other?
I use two Canon 6D cameras, with Canon 85mm, 24-105mm, 70-200mm lenses.
08) What kind of other gear do you use for boudoir and/vs other?
Nothing more. Everything is very simple, always using natural light. Even in the studio I prefer light from windows.
09) Among your works, which one is your favorite? Why?
My book is my most important job. It was published in 2012, by a large publisher here in Brazil. It was the first book on artistic nude in the country.
10) What is the most difficult part of being a fine art / boudoir photographer for you?
The hardest part is dealing with prejudice. It is not easy to be a photographer of artistic nude.
11) What is the most rewarding part of being a boudoir photographer for you?
The most beautiful and rewarding part is always the smile and the sparkle in the eyes of the models when they like the photos we took. Their happiness is always the goal.
12) Just for fun, if you could shoot in any location, where would it be?
I would love to shoot in a canyon like the ones in Utah. Or on the Côte d'Azur, in France. A snowy mountain would also be excellent.
Lechat has a nude art photo book called "Fotografia de Nu Artístico". Please click on the image below to go to the purchase page: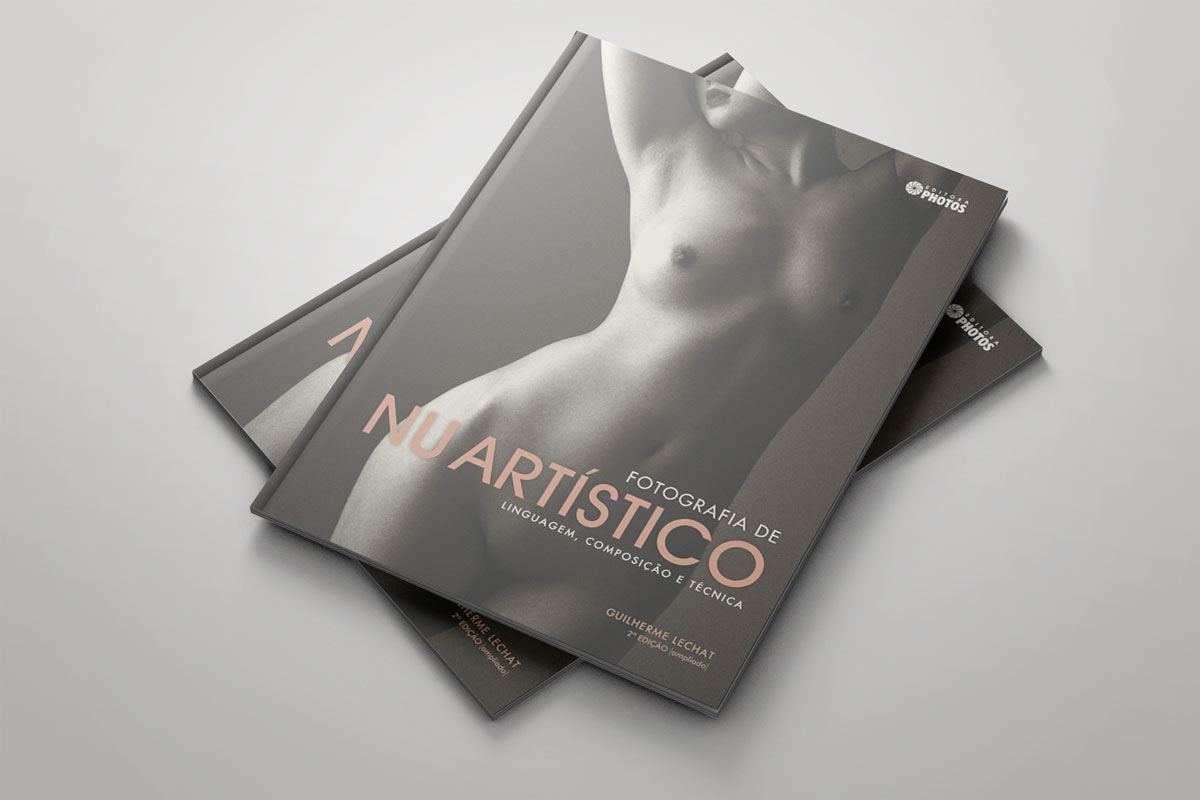 About the book:
Defining what is or is not artistic in nude photography is a complex task. What is artistic to some may seem vulgar to others. Education, moral precepts, age and culture are some of the factors that influence people's perception of the topic.
Nude photography covers distinct subcategories. There are classic and academic nudes. There are sensual and erotic nudes. However, everyone is naked. What distinguishes them is the way in which they are shown.
In this work, the author describes, conceptualizes and exemplifies nude photography, from the construction of its various languages, through the composition, choice and development of a style, and detailing the techniques for capturing beautiful images.
The main topics covered in the book:
- What is artistic nude and the controversy surrounding the nude
- The beautiful and what makes an artistic nude
- The situation of models in nude photography
- Photograph ordinary people. Why not?
- Language, how to build a new look and previous training
- How to plan the nude test
- The first experiences and how to approach possible models
- How to escape from vulgarity
- Photographers, models and noise
- The construction of the pose and the direction of models
- Lighting and light sources
- Use of a single light source, soft side light, two or more sources
- Color and black and white
- Details, body and texture
- Rentals and harmony with nature
- How to capture the spirit of the place
- Poses guide with more than 30 images
"Our outlook on ourselves has changed. Aesthetic standards come and go. The ideals of beauty are transitory. But the reflected object remains always the same: ourselves, our figure." - Guilherme Lechat
Works Featured:
Please go ahead and checkout Lechat's galleries of beautiful artwork published in Boudoir Inspiration Magazine down below: